Polycystic Ovarian Syndrome (PCOS)

POC is the most common hormonal reproductive problem in women of childbearing age. An estimated five to 10 percent of women of childbearing age have PCOD.

In our body we have two ovaries. They are used to produce follicles which then grow to form eggs. The eggs then reach into uterus for fertilization, when fertilization doesn't occur; you have your menstrual cycle operating to take care of it. In cases of PCOD, follicles are created, but they don't grow into egg. The ovaries keep on generating follicles and this causes too many cysts in it. Eggs are not forming, which gives rise to menstrual cycle and no fertilization. Ovaries are not functioning properly, they continue to make more of male hormones which lead to excess growth of hair or excessive hair fall.
Causes:
While the exact cause of PCOS is unknown, doctors believe that hormonal imbalances and genetics play a role. Women are more likely to develop PCOS if their mother or sister also has the condition.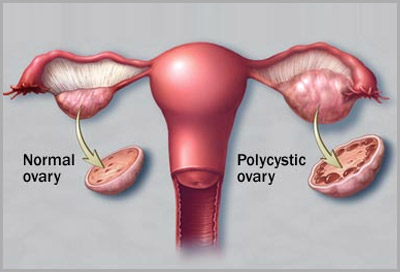 Overproduction of the hormone androgen may be another contributing factor. Androgen is a male sex hormone that women's bodies also produce. Women with PCOS often produce higher-than-normal levels of androgen. This can affect the development and release of eggs during ovulation. Excess insulin (a hormone that helps convert sugars and starches into energy) may cause high androgen levels
Symptoms
Symptoms of polycystic ovary syndrome (PCOS) tend to start gradually. Hormone changes that lead to PCOS often start in the early teens, after the first menstrual period. Symptoms may be especially noticeable after a weight gain.

Symptoms may include:
• Menstrual problems. These can include few or no menstrual periods or heavy, irregular bleeding.
• Hair loss from the scalp and hair growth (hirsutism) on the face, chest, back, stomach, thumbs, or toes.
• Acne and oily skin
• Fertility problems, such as not releasing an egg (not ovulating) or repeat miscarriages.
• Insulin resistance and too muchinsulin (hyperinsulinemia), which can cause things like upper bodyobesity and skin tags.
• Depression or mood swings. For more information, see the topicDepression or Depression in Children and Teens.
• Breathing problems while sleeping (obstructive sleep apnea). This is linked to both obesity and insulin resistance.